Adding a simple Lead Type Action
A Lead Type Action is an immediate response to an event in FLG. An event can be anything from the lead arriving in the system to a customer opening an email sent from the system. 

You will see by following these instructions that there are many

actions

& many

events

to choose from.  

~We are going to choose 'Assign to User' on event 'Received 'in this example.

To add a Lead Type Action you will need access to the 'Settings' menu, Click on Lead Groups. Click the 'Lead Types' button in the group you want to set the action


 Click the Edit button on the Lead Type you want to add your action. Each Lead type has their own set of actions so you may want to add these actions to each lead type. 
Click the '+ Add New Action' button to start your automations.
A selection box should now appear with a list of actions you can take. We are going to choose 'Assign to User' in this example.
You will now be asked to choose a User, the selection box should mirror any users you have in the system, any groups you have in the system and also give you choices such as assigning to a user associated with the postcode in the lead, the introducer, or if this lead is linked to another we can assign it to the same user as the original enquiry.

We now choose the 'trigger' event – in this case we are going to choose 'Received' and treat this as a new Enquiry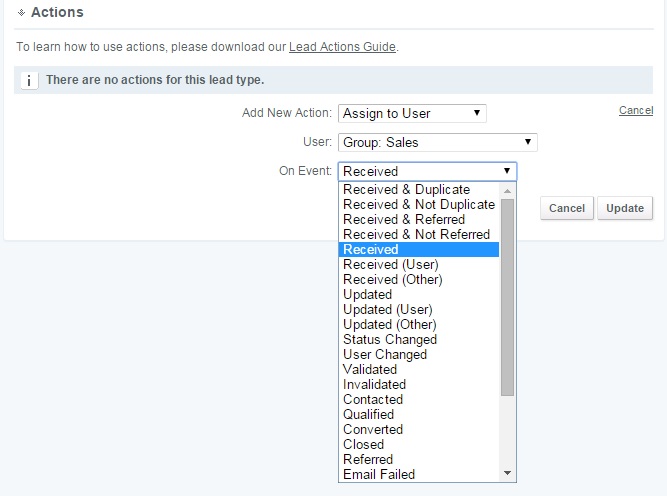 Once you have clicked the 'Update' button, this is now set to happen every time a New Lead arrives in the system. 
You can elaborate on this by now sending your customer one of your email templates, setting the Assigned user a task or Starting a Workflow. Just follow the same instructions above, and select the alternative actions, or times you want them to trigger (ie. On Event 'Status Changed').
See our
lead actions guide
for more details